Homeowners Mitigation Insurance Credits Windstorm, Hurricane, Flood Zone, Alarm System and Roof

Florida Building Engineering and Inspections
www.inspectionsandengineering.com
How to Obtain Insurance Discounts and Credits

At Florida Builders Engineers & Inspectors Network, Inc. we 100% FULLY GUARANTEE that an Inspection done by us professionally will save you up to 50% OFF on what you are paying for you current Insurance now!!!

You do not have to wait for your Insurance Renewal to PLUG-IN to immediate savings!!!

Why pay more for Insurance when you do not have to!!!

Insurance Carriers base their Insurance Rates on many factors. The age and condition of the Home and or Structure. The type of Roof, Windows, Security System and many other factors that most Floridian's are simply not aware of. We can help you save money!!!

We have provided assistance to over "One Million Florida Residents". Call us and let us show you how you may save "Thousands of Dollars" on your "Current Insurance Immediately". If you do not Save up to 50% OFF Your Insurance the Inspection is 100% FREE, GUARANTEED.
INSPECTIONS as low as only $75 "Guaranteed Insurance Savings"
Florida Building Engineering and Inspection
Over 1,000,000 (one million) People in Florida have "Accepted our Reports" and Hopefully You!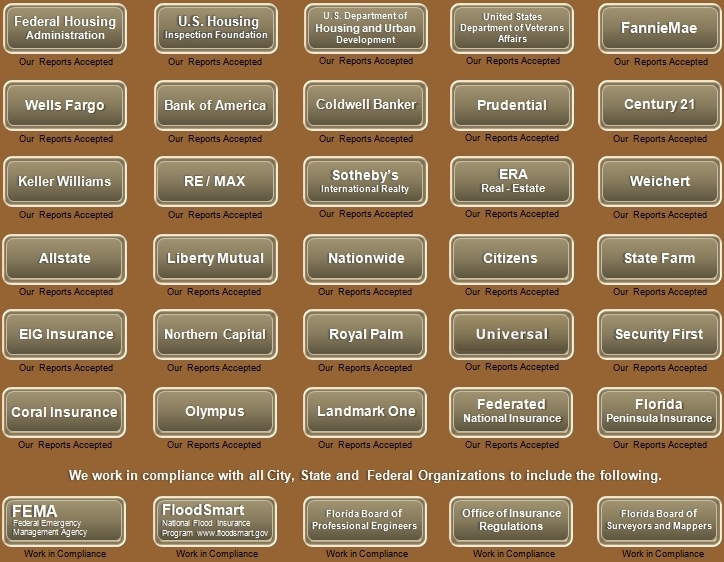 Save Money on Insurance "GUARANTEED" or the Inspection is FREE
Florida Building Engineering & Inspections All Rights Reserved © 2009
Website Media Design, Creation & Network Administrative Services to include All Applied Technology
by DSI Global Computer Services All Rights Reserved Copyright © 2005 - 2009